Solving Your Daily
Challenges!
Providing Excellence in Modern BI Stack for Enterprises
We Provide Business Intelligence Solutions
We offer a collection of SQL Server Integration Services tasks. Including tools for adding time delays to a package during execution, compression and uncompressing of files.
Available in two editions, Developer and Enterprise, sharing several similar features except the Developer can only be installed on non-windows server systems (i.e., Windows 7, Windows 10) and licensed for free.
SQL
Maintain existing SSIS Packages and fix errors where needed.
Develop SSIS packages. Write SQL queries .
Write and maintain SSIS ETLS design.
Build ETLS ETL and SQL jobs monitoring.
Deploy SSIS Packages.
Data Warehousing & Analytics
Build a data pipeline.
Analyze and organize data.
Data ingestion and quality checks.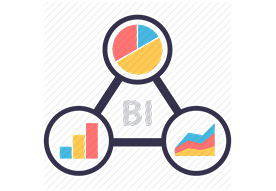 BI Development
We assist businesses with the collection, organization, and use of computerized data.
We evaluate existing systems and install new software as needed to better assess the company's acquired data.
Developing and updating a high-level roadmap of business.
Our Technology which we are using
in our solutions
Our Tools which we are using
in our solutions

Gems
Siemens
Discovery
Coca cola