We solve your daily
challenges!
Excellence in Modern BI Stack for Enterprises
WE PROVIDE BUSINESS INTELLIGENCE SOLUTIONS
select SIFISO tools for SSIS is a collection of SQL Server Integration Services tasks. It also includes tools for adding time delay into a package during execution, compressing as well as uncompressing of files. It is available under two editions, Developer as well as Enterprise.
The two editions share several features except that unlike Enterprise, the Developer edition can only be installed on non-windows server systems (i.e. Windows 7, Windows 10). As a result, Developer edition is licensed for free (provided you are not using it on production workloads).
SQL
Maintaining existing SSIS Packages and fixing errors where needed. Developing SSIS packages. Writing SQL queries. Writing and maintaining SSIS ETLS Design and build ETLS ETL and SQL jobs monitoring. Deploying SSIS Packages.
Data Warehousing & Analytics
Build Data Pipeline Analyzes and organizes data Data Ingestion and quality checksBuild Data Pipeline Analyzes and organizes data Data Ingestion and quality checksBuild Data Pipeline Analyzes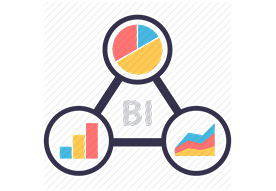 BI Development
We assists businesses with the collection, organization, and use of computerized data. We evaluate existing systems and install new software when needed to better assess the company's acquired data. Develop and update high-level roadmap of business.
Technology which we are using
in our solutions
Tools which we are using
in our solutions

Gems
Data extraction, transform and load from different flat files and relational database sources using SQL Server Integration Services (SSIS) into a SQL Server-based Data Warehouse.

Siemens
SSAS Tabular Cube Development, DB2 Data integration and its maintenance using SSIS, Scheduling & Processing of the ELM Cube using SSIS and SQL Server Agent.
Discovery
Development of SSIS packages from data sources such as flat files, SharePoint lists, Oracle, and SQL Server using a Parent-Child Architecture. The SSIS packages periodically imported data into a cloud-based data warehouse using Ralph Kimball methodology.
Coca cola
Design and build modern data pipelines and data streams, Design and build data service APIs, Expose data to end users using Power BI, Azure API Apps or other modern visualization platform or experience, Analyze current business practices, processes and procedures and identify future opportunities for leveraging Microsoft Azure data & analytics PaaS services.